Custom Domain
View Dashboard > Custom Domain
You can connect Superblog to your own domain. It can be a subdomain or subdirectory.
Once you enter your desired URL like blog.example.com or example.com/blog in the text box, click the Connect button to receive instructions.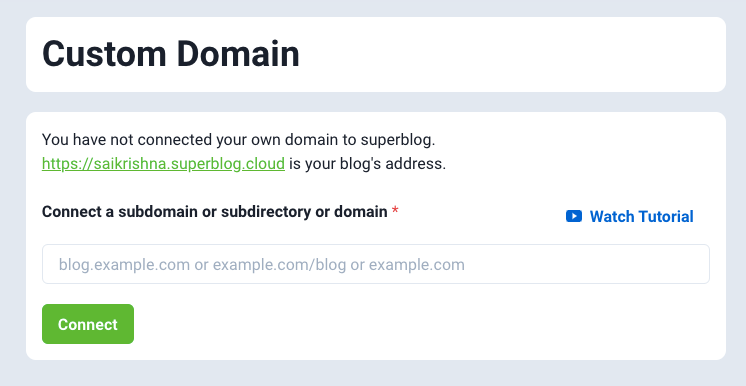 Subdomain​
Connecting your subdomain blog.example.com to Superblog is probably the easiest way. If you are non-technical or not really focused on SEO then choose this method.
However, most SEO experts say to use a subdirectory instead of a subdomain. Read more about this here.
Subdirectory​
For the best SEO benefits, prefer connecting your blog to a subdirectory like example.com/blog. Configuring this is a bit technical and might require expert guidance.
But do not panic, once you connect your required URL, you will be shown step-by-step instructions in the Superblog dashboard itself.
Note​
Typically, you can setup a reverse proxy or Superblog provides one for you.
(No additional purchase is needed, it is included in the plan)